Recently NAR (National Association of Realtors) came out with this ad: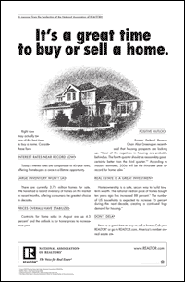 Click for PDF of ad and read: NAR's site supporting the ad
The ad talks about the benefits of buying today, yet it says "or sell"!
Here are the benefit of "buying or selling" as explained
in the ad:
1) INTEREST RATES NEAR RECORD LOWS
Frankly comment: While rates are low compared to the last 40 years, rates are higher than just a year or two ago. As a percentage as much as 50% higher with ARMs! So the buying power for a $600k house is now about $400k for a buyer using a 5 year ARM (note that the 5 year ARM is about the same price as a 30 year fix, so far fewer people are buying ARMs). On the flip side, will rates go up more? If they go from 6 to 7%, it isn't a 1% increase, it is a 16% DECREASE in buying power. So this point DOES have some merit for a reason to buy and should be considered.
2) LARGE INVENTORY WON'T LAST
Frankly comment: Ok, so there are a ton of homes on the market. And since it is taking longer to sell, there are MORE homes every month (excluding seasonality). They aren't going anywhere (except delisting if sellers don't get their price and decide to rent). I disagree with the notion that you should, "hurry up the market is flooded with inventory that will go away soon." Actually I think that is kind of silly.
3) PRICES OVERALL HAVE STABILIZED
Frankly comment: I don't believe these numbers. In part because they don't include the seller subsidy, which is now near 2%! (up from nearly zero 2 years ago)
I continue to see prices drop. Buyers need to make sure they are aggressive and getting a great price to help shelter any possible further decline.
4) POSITIVE OUTLOOK
Frankly comment: Uncertain. There are 5 reports that show houses will decline for the 5 reports that show they will increase. I don't see any immediate and significant bounce upward. Overall, the economic outlook is strong.
5) REAL ESTATE IS A GREAT INVESTMENT
Frankly comment: True, as long as you
a) buy aggressively getting a great price and
b) your horizon is long enough.
If you have a horizon of over 10 years, if history repeats itself, there has never been a decline. But 10 years is a long time. You MUST be prepared for the "what if" you need to sell early and "what if" prices go down. Can you absorb that? And watch out for the "I'll just rent it" excuse.
6) DON'T DELAY
Frankly comment: Don't try and time the market. If you buy for the right reasons and with a long enough of a horizon, you should be fine. As for the "Don't Delay", I would agree with that……….. NOT.
How can you have an ad that says it is a good time to buy and a good time to sell at the same time?
No wonder T-Mobile made fun of us with this TV ad:

(note that they talk about "Real Estate Agents" and not "Realtors", I'll let you figure out the difference)
I have sent an official complaint to NVAR (local) for embracing this ad.
Their reply was: "Thank you for your feedback and suggestions."
I have sent an official complaint to NAR (national) for creating this ad:
Their reply was: "Actually, the word I have is that the ad is tremendously effective and highly popular. Sorry that we dont agree that more buyers will make it a great time to sell as well as buy."
So in case you didn't read the NAR response carefully, they are claiming that there are more buyers now and thus a great time to sell. Does that clarify things for everyone? Is this ad more clear?
Please post your thoughts on this ad. Does it make sense to you to advertise that it is a good time to buy and sell? Meanwhile only listing benefits for buying?
– Written by Frank Borges LL0SA- Broker/Owner FranklyRealty.com
703-827-4006
Videos at YouTube.FranklyRealty.com
Keywords: Housing bubble? Arlington, Alexandria, MLS, MRIS, homesdatabase,
Homes, Real estate, Virginia, Alexandria, 22201, 22314, Fairfax Va, DC Realty, Realtor