Last week 3 people texted me (or would that be "text me")

saying "Turn on 60 minutes," yet I missed it! (see it)
America was lured in by the… 20 year long regurgitated story "Attack on the 6% Realtors" and comments about "saving thousands."
After watching such a biased infomercial, of course Redfin seems like a no-brainer. Well my blog readers have a brain, so here it goes…
Sidenote: Normally I'm not a fan of NAR, but I did agree with most of their comebacks (click to see).
I have written extensively on my bias opinion on the pros and cons of rebating and discounting including:
I would like to focus on the "savings" comment put forth by 60 Minutes' case study.
"WE SAVED $27,000"* NOTE THE ASTERISK!
After they were done laughing and giggling on their couch about how they saved $27,000 and how they could spend it on their wedding, they made an under-the-breathe comment that they sold their place for…
"$10,000 under what Redfin recommended that we list it for."
In this comment I see two things to question:
1) "$10,000 Under List"
2) "The list price recommended by Redfin."
So let's start with the latter…
If some of their agents do as many as 8 closings a week, might it be remotely possible that they might have a strategy of listing low in order to sell fast? I'm not saying they do, but would that make sense to anybody besides me?
And for the "$10,000 under list," while I oftentimes say that "Many Listing Agents Suck" See RealtyTimes article or my blog, one has to wonder if another motivated agent that had more time to devote to the listing might have:
Landed them full list ($10,000 higher)
Started higher and ended higher ($15,000+ higher)
Got a bidding war going, resulting in a much higher net ($32,000 like our Realtor Megan's listing, see blog).
In my biased opinion, the best way to get the most for the house isn't to find one buyer, but to find at least TWO buyers. I don't believe in pricing low to start a bidding war, but I do believe in getting as many buyers into the process as possible. A process that can take an extra 8 hours in one day for one agent, while netting the client another $32,000.
Back to the "$27,000 total in savings," that was for buying and selling. If we assume that they bought a bigger place, they probably "saved" $12,000 on the listing and "saved" $15,000 on the purchase.
I'm confident, and I have references to back me on this, that I can consistently do at least $12,000 higher than a discount agent. I wish there was a way to prove this with statistics, but they would just be manipulated.

Instead I can only give real world examples:
Megan, with FranklyRealty.com, had a recent listing (See Bidding Wars? It's The Staging Stupid!) The initial discussion regarding the starting price at the listing appointment was roughly

$550,000

(seller's opinion). After staging, light remodeling and further research, and many hours of work, the starting price was set aggressively at

$570,000.

The end result was 3 offers and a ratified contract

$13,000 higher.

While I'm confident in these number being an example of hard work, Redfin might also find an example of an agent that did a similar great job. And if that person was so great… I would hire them and pay them double, because they are worth it.

(think about that for a second, if you could offer value way beyond discounting, wouldn't you start charging accordingly?) 

Sidenote: ZipRealty, another discount firm (some disagree with that term, see blog comments/debate), according to one blog is full of disgruntled, newer, and underpaid agents that are overworked. External blog:

What's Wrong with zipRealty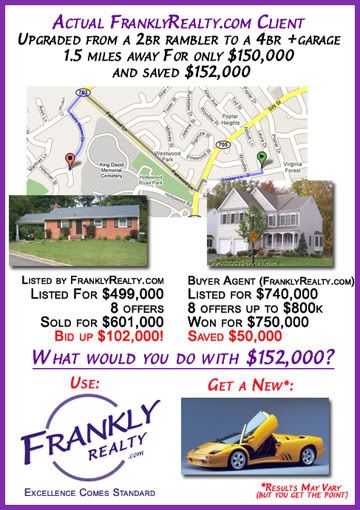 The above is actually a true story. It was a hot seller's market, and with proper marketing and about 10 stressful non-stop hours the $499,000 listing was bid up to $601,000. One thing is to bid it up, another is to actually close at this price. Especially after several attempts to renegotiate, and appraisal issues. Yeah sure, I got a few bucks for the incremental difference, but that is nothing compared to the unexpected $102,000 in their pockets. Sure they could have "saved" and sold it fast FSBO, but they wouldn't have been able to get anything near wha
t I got them (their words).
Then on their purchase, they loved a house that was getting 8 offers. At FranklyRealty.com we don't write normal looking offers, and that sets us apart immediately
. Each offer is different. I can't publish all my tricks here, but when was the last time that you saw a contract that put the Realtor's ENTIRE commission on the line as a promise that we wouldn't renegotiate the offer? That is powerful. Also we run a CRA ™ Comparative Realtor Analysis report (see it here on RealtyTimes.com) amongst many other systems that net our client more.
A good agent should approach buying a house like an acquisition of a company. Thus winning contracts for less. In this case the 8 offers were bid up to approximately $800,000. Why in the world would somebody take our lower offer? Well because money is not the only motivating factor. When we got that house for only $750,000 my clients were in shock after just getting approved by the lender to get bid up to $800,000. They saved $50,000.
So it doesn't matter if the market is hot, cold or you are buying or selling, an aggressive agent can save you much more, and do it in a way that all parties are smiling in the end.
Ok, I got sidetracked. The point is that what a great agent does can't be compressed into 8 closings a week per agent.
So you have to pick one:
"save on commission" or


"net more."
Bottom line is,
I used to rebate… but then I got… good.
Frank Borges LL0SA- Virginia Broker/ Owner FranklyRealty.com
Blog.FranklyRealty.com Featured in BusinessWeek, CNBC, WSJ etc.
Don't miss another blog, get it via email. Sign up now (spam-free) on the right side of the page.
Videos at YouTube.FranklyRealty.com
Keywords: Housing bubble? Arlington, Alexandria, mls, homes, Real estate, Virginia, Alexandria, 22201, 22314, Fairfax Va, DC Realty, Realtor