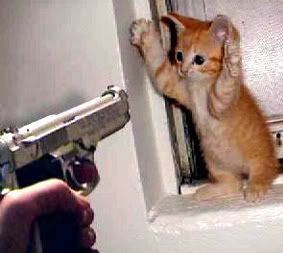 A subprime loan is a loan given to people with low credit scores. Those loans are either:
1) At a much higher interest rate, or
2) With closing costs and/or points through the roof.
Either way it is

highway robbery!
I've debated before about the close call of buying vs renting and even steered many people toward renting by dispelling the myths of "making your landlord rich" and the "tax savings" etc. See Don't Buy Ask Why blog.
In today's market, even after the declining prices, renting is still cheaper, even after all the tax "breaks."

(and those of you who want to use technicalities and say "what if I put 50% down," you can go to the back of the room. Rent Vs Buy numbers should be done as if you were doing 100% financing, or else they aren't accurate.)
So, if the rent vs buy (see RvB NYT Article I was in) equation is a close call for somebody with a good credit score, let's look at the equation with somebody with a POOR credit score putting NO money down and paying up the wazoo in high rates or closing costs.
Let's first back up and talk about how loan officers make their money.
They either make their money
1) Up front with "points" or
2) On the back end with a higher rate.
3) A combo of the above.
(Sidenote: With subprime there is more tom foolery, up front points and padded profits since the lender is trapped and feels they have fewer options. Also the lender charges more for the added hassle factor.)
They make the same money either way, so which route they show you is called MARKETING!


So with Subprime, lenders love to pile on the points (closing costs) and say "the seller is paying for it."
Um, hello, McFly! DON'T BE FOOLED! YOU ARE PAYING IT!
Example:
$300,000 with $15,000 "seller subsidy"
or
$285,000 with $0.00 subsidy
Which do you think the seller will prefer?
They are the SAME. So lets stop pretending that closing costs are free found money. It is your money.
So the subprime lender wants to mask the TRUE rate of your loan, which is something like 1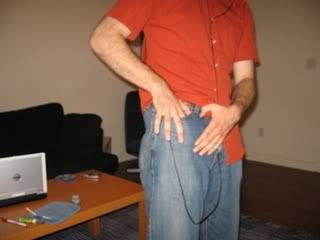 0% and they "buy it down" to a more sexy 6% loan (sometimes for only 2 years, then it adjusts higher or they scam you into another refi). Why? Because you "can't afford 10% a month" And their solution is for you to take the $15,000 (that you also can't afford) and fudge the numbers to LOOK like you can afford it!
That is like moving money from one pocket to another pocket.
And then they change hats in a couple of years and give you a "no

points" or "no cost" refinance. As per the #2 "how a lender makes money" above, they make it with a higher interest rate. Because there is no seller to "pay closing costs" they use marketing again and they build the fee back into the loan with a higher interest rate. Regardless they are making money off you yet again!
Back to your subprime loan on your current purchase. Another way to look at it is if you opted for a no points 10% loan, you kept that $15,000 in the bank and you used $500 per month to subsidize (apply toward your ultra high loan) your monthly loan. That $15,000 would last you 30 months!
So when running the numbers, to get a TRUE idea what your REAL costs are, you need to ask:
"What is your rate with NO POINTS."
The numbers will suck, but that is reality (or is it realty?).
Recently I ran the numbers and found that for a subprime loan, after all expenses, condo fees, taxes etc were included, the total monthly amount was:
Subprime loan for a 1bdr total = $2,500 a month
I asked the person what it would cost to rent that same place.
Answer: Rental amount= $1200
Renting will save this person $1,300 x 12 or $15,600 EACH Year!
That is over $45,000 TAX FREE in 3 years if they rented!
Sidenote: You have heard about being able to write your interest off on your taxes
right? Keep in mind that this tax break is for the rich! Yes, if you are not rich, you get substantially LESS tax breaks. If you are in the 15-20% tax bracket, you get to "write off" your interest, but you get HALF the credit that somebody in the 30-40% tax bracket gets. And if your loan is large enough, it can LOWER you into an even lower bracket. Sounds good, but this is BAD since it lowers the amount you get to write off.
So what are the possible reasons one might come up with to justifying hurrying into a place now with a poor credit score?
1) Some might say "But rates may going up."
To that you have to look at your loan. Many subprime loans are ARMS and they adjust after a couple of years. If rates go up, and you have an ARM, you will just REFI into the higher new rates. If your subprime loan fixes your rate for 30 years, you will have to do the math. (avoid loans with teaser rates that start lower for 2 years, if you can't afford it now, you can't afford it later when it goes up)! I bet if you take that $45,000 in savings over three years, and you fix your credit and buy a place in 3 years, even if rates go up, you will still be much better off.
2) "What if home prices are going up and I need to get a house fast!"
More reason NOT to buy. If the market is going up, all is dandy, but you have to run the numbers if the market goes down! You will be stuck in your house for years until the market rebounds. And no, you can't just rent it, since rent won't cover the mortgage.
Sidenote: Watch out, subprime loans also oftentimes have large prepayment penalties. You can't just refi or sell without paying the bank ANOHTER $5,000 to $20,000! So you are locked in!

Remember TEASER= TAZER
Do not get a loan that automatically goes up later. Those are called Teaser rates. Teaser rates will HURT when they go up 20-100%.
If you can't afford it now, you won't be able to afford it later!
Fix your credit scores first, and THEN consider buying. Here is where you can get started to fix your credit scores.
Bottom line is the American Dream is NOT for people with low credit scores.


Sorry, I know the white picket fence, or small condo gives you that warm and fuzzy, but so does heartburn.
It just doesn't make any financial sense.
And the blog doesn't end here. I promise there will be heated debate under the "comments" section. Please add your comments. You might learn MORE from the comment than from this blog.
– Written by Frank Borges LL0SA- Broker/Owner FranklyRealty.com
703-827-4OO6 Please report all typos, I don't like looking stupid. If you like this post, sign up for new blogs daily, use the form on the right of the page.

This blog was inspired by this 8 minute phone call, watch the video.