So you've just looked at 10 homes and your brain is fried.
Everything starting to look alike? Oh No!
The solution: Buyer Agent Photo Albums.
Your buyer agent should be taking 30-50 photos per house that you visit. Seems like a nobrainer to me, and I've been doing it for years, but now I thought I'd share this simple, yet extremely effective idea. If your Realtor doesn't do this, feel free to send them to this post and say, "Gimme dat!" or better yet, get a tech savvy agent.
While way too many listings go photoless, (see Buyers! Don't Skip Photoless Listings. Save $15,000) even the listings WITH photos are meant to put forth the best angles for the seller, not for the buyer.
A buyer's agent photo album should capture a truer picture of each house, with the BUYER in mind. Including:
Each room, even if it just seems like 4 walls, "nothing" is "something"
Each closet
Hallways and staircases
Washer and dryers
Problems like ceiling watermarks and anything questionable
Unfinished basements or horrible 3rd bathroom
Details like linoleum floors
The neighborhood view
The backyard view
And the shots should show where the rooms start and end. For example, take a real shot of that bedroom that you thought was big in the MLS photo, but was really just a great photographer that ended the shot right before the wall turned (I admit, I do that).
So your buyer's agent should be offering this service. If they aren't, or can't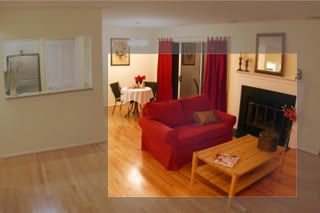 , I guess the client could do it, but they should be absorbing the house on a macro level. Meanwhile the agent snaps 4 or 5 quick shots per room (no time for Ansel Adams). I strongly suggest the Kodak v570 (photo example shows what the v570 captures vs a regular camera.)
The camera should be set to the LOWEST resolution for faster uploading and web viewing. Just start firing away like a mad man. Put it on motor drive if you can, and consider turning OFF the flash for faster recycle time between photos. If you know how to change your ISO, set it to 1600.
The point of these photos isn't to be pretty, but to be fast. Many look like this:
Steps for a buyer agent photo album:
Start with an exterior photo and a photo of the house number. That way the viewer knows where each house begins.
Shoot a closeup of the listing sheet, so you have the address and price.
Take 30-50+ photos per house
At the end of the day, upload them using Picasa's free software from Google (or Ofoto) and with one click, you can upload it to a private photo album just for your client (don't send tons of attached emails, that is so 2001).
Then you send them a link to the album.
The other huge advantage… SAVE HOURS!
Frequently buyers want to "see it again," because they don't fully remember how big something was, or the condition of the house. That is fine, but the photo album cuts that need by 80%. Saving the client's time (and the Realtor's time).
Written by Frank Borges LL0SA- Virginia Broker/ Owner FranklyRealty.com