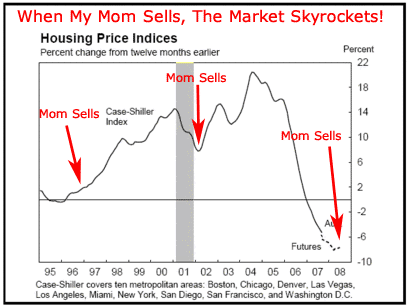 I officially have 100% proof that we have officially hit rock bottom.
No other indicators from NAR or the government have been as accurate as the proof that I have. I found a 100% correlation!
When My MOM SELLS, THE MARKET SKYROCKETS shortly thereafter!
The chart to the left is factual. Actual points when my Mom has sold her property.
The last arrow is from a recent listing which is now under contract. (see listing, check out the photos and collages).
So there you have it. No more need to think. I have always been against the NAR campaign that says "Buy Now,
" but now I can show proof that NOW is the time to buy! That market is going UP UP UP!
Thanks Mom, for taking one for the team and helping us all out by single handedly turning markets around!
For my previous prediction on the EXACT best day to buy, read my Market Timing post.
Not a subscriber? Add your email to get spam-free blog posts sent to your inbox. Upcoming posts: My GrandaMa Thinks I'm Broke. Also don't forget to comment. Bloggers like comments.
– Written by Frank Borges LL0SA- Broker FranklyRealty.com
p.s. Please report typos