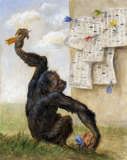 Disclosure: I am not a financial advisor. This is not financial advice, and you'd be an idiot to follow what I do personally.
I personally only own ONE "stock", and that is called SPY. The #1 bought and sold stock in America, meanwhile most individual investors don't know about it.
It is an Index Fund (also called an EFT, Exchange Traded Fund) that has all of the S&P 500 rolled into one stock with virtually no fees and no annual maintenance. Motley Fool
wrote that "3 out of 4 mutual funds don't beat the market." (ie SPY)
So why not just be average and beat 75% of the funds every year?
The Wall Street Journal used to have a competition. They would have a monkey throw darts at a group of stocks and compare the results to the experts. I believe the monkey repeatedly won. What does this mean? This means that the market is too efficient for somebody to consistently beat it.
Just yesterday my girlfriend asked me to review what her financial advisor sent her. It was 25 pages of gibberish. It appeared as if the entire intent was to confuse the reader into thinking, "Wow, they really must know what they are doing, I'll just tell them YES." (Sound familiar? Some Realtors take the approach of, "overwhelm the client with BS to scare them into signing.")
So, I looked up the 10 Mutual Funds in her report. I compared them to my SPY and I was impressed... my monkey theory was blown. 8 of the 10 blew away the industry average (S&P 500 & SPY). This couldn't be… So I had her log into her account. I then looked at what her account had. They were totally different mutual funds!
Upon rereading the manifesto, those well performing funds were the "RECOMMENDED funds" for the future. Are you freaking kidding me!!? The funds she owned did horribly! Probably 10% worse than SPY! So what they did was take 10 random funds that DID do well and say "we recommend you buy these, look how well they did, you will do great next year." Are you kidding me?
So much for a long term plan to leave the funds untouched for 5-10 years. The worst thing you can do is dump the under performing ones (all of them) every year and chase the next big thing. (Re-Disclosure: Ignore me, I am not a financial advisor).
Oh yeah, for those that don't know, there is something called Churning an Account. Sometimes they only make money when they buy and sell, not when it sits. So not only did their initial picks blow, they now want to sell and rebuy new funds to get another round of commissions.
What did we decide to do? We sold everything (they were down from the purchase date, so no taxes, actually a tax break). And we bought just SPY (The S&P 500 rolled into 1 "index" stock).
Why haven't you heard about the #1 stock (in volume, look for yourself) being bought and sold in America everyday!??? Because the financial advisors make squat on it! And magazines are always looking to beat the market and promote their advertisers (mutual funds). Nobody gets rich pushing SPY.
Even the torch bearer of truth, the Motley Fool, figured out that they don't make money on pushing "dumb" reliable and outperforming SPY, instead they receive millions from Mutual Funds to sell their products. This link even talks about how 75% of mutual funds stink and their theory on how to find that 25% (which is nearly impossible in the long run, but they make money watching people try!).
Compare your funds to SPY here, and report back in the comments.
(Sidenote: One reason to consider NOT unloading your funds would be the tax ramifications. For my girlfriend's IRA it was a Tax-Free no brainer so we sold and converted to SPY last year, but we held off on her other funds since she would have to pay capital gains for the gains. Now that the market has pulled back, and they are nearly all losses, we are cutting bait and switching to SPY. By the way, we would have been much better off if we had paid the tax and swapped last year.)
For those consumers that hate Realtors as much as I hate this one particular financial advisor, I now better understand them.
Hopefully by explaining better what we do, and talking straight, and not feeding you BS, we can separate us from Financial Advisors like this.
I'd love to hear from a Financial Advisor and debate the practice above.
Please correct me. Show me what I am missing (I really want to know!). Nobody in the history of mutual funds has consistently beaten the average, so why buy Mutual Funds which:
Start 1-2% behind every year in management fees (don't be fooled by "no-load" funds, they got fees)
Only have a 25% chance of beating the average, with all the downside risk of doing much worse
Paying a fund manager $400,000 a year, and he can't even beat a monkey.
Discuss…
Also I am making no opinion on whether or not to get into the stock market, but if you did, how did you decide what to buy?
Feel free to forward this post, and don't forget to sign up via email for future posts in the upper right corner of Blog.FranklyRealty.com
Update 6-1-08: I just went to a wedding and ran into a Financial Advisor that was not happy with this post. Saying that he is going to tell people to go FSBO and not use a Realtor. I think he missed the point and missed a great opportunity. I want to be corrected! I want somebody to come in and help my misunderstandings and misconceptions. I blog so that consumers better understand what we do, and a good Financial Planner should take this opportunity to help everyone understand how a good advisor works (feel free to add a link to your site even, or contact info).

– Written by Frank Borges LL0SA- Realtor (not a Financial Advisor) Please report typos
Read more here at Motley Fool: Why ETFs [like SPY] Beat Mutual Funds